When it comes time to upgrade your bathroom, one of the must have items on your list is likely to be a new shower screen. Getting a bathroom makeover is a sure fire way to add value to your home and even a few simple changes, can provide a significant return on your investment. After all, the cost of glass shower doors does not need to break the bank.
If you're wondering how much a new glass shower door will cost, there really isn't a simple answer. Prices range from a few hundred dollars on the lower end, to the thousands for something luxurious and high-end in style. The biggest variance of the price comes down to the selection of material (including brand) and the difficulty of the installation including any modifications that needs to be done to the fitting.
Remember that before you tackle your remodel, you'll need to measure the floor area you have to work with as you don't want the lack of space to be causing unnecessary dramas down the track. The old adage of 'measure twice, buy once' really applies here.
When Is It Time to Replace the Shower Screen?
Most of the time replacing the shower screen is part of the process of a complete bathroom makeover. There are of course times when it is just the glass and frame that looks tired or is starting to see the effects of age and general wear and tear. In this case, owners will just replace the glass and leave the rest of the remodel to another time when financially able to. Then there are times when it is essential to replace the glass in the shower as it has shattered into pieces and is no longer functional or safe! This was the case for one lucky home owner recently. You can read about it here; Safety Alert: Exploding Glass Shower Doors.
Tools Needed to Get the Job Done
If you're looking to fit and install your new glass door yourself, there will be some essential tools needed to complete the job. These tools will be used to remove your old shower screen and will assist with the new installation. They include:
Screwdriver and claw hammer
Utility knife
Measuring Tape
Painter's Tape
Caulking gun
For further information about these tools, you may want to check out this post, 'Different Types of Hand Tools and Their Uses.'
Of course, you do not have to remove your old door or install your new one yourself. If you're after an experienced professional, our team at Fort Collins Home Improvement, are here to assist you with all your bathroom and renovation needs.
Different Types of Glass Shower Doors – To Frame or Not to Frame…..?
To begin with you'll need to decide on what type of frame you'll be requiring for the project you have in mind.
There are three main ones to choose from:
Framed – a door that is housed in a decorative frame. It is the most common option and most budget friendly
Semi-frameless – a combination of both framed and frameless
Frameless – a look that allows an unobstructed view of the interior of the shower via solid and tempered glass. It is the most expensive option.
Opening Styles of Glass Shower Doors
The style of door you like and floor space you need to work with can also affect the price. There are 5 main popular styles of doors.
Pivoting Door – this refers to doors on a hinge that can swing out quite far (so it's important to ensure you have the right space needed)
Bi-Fold Shower Doors – bi-folds are great as they provide a second hinge of the actual door so it bends when opened and resumes flat when closed. Good when space is an issue.
Bypass or Sliding Doors – if you're after doors that swing out, bypass or sliding doors are fitted with 2-3 glass panels on a track. Really necessary if you have limited space.
Rounded Doors – this type of door is often seen in the corner of a bathroom and used with standalone showers.
Partial Tub Enclosure – as the name suggest, this type is used in conjunction with bathtubs when combining showering with bathing.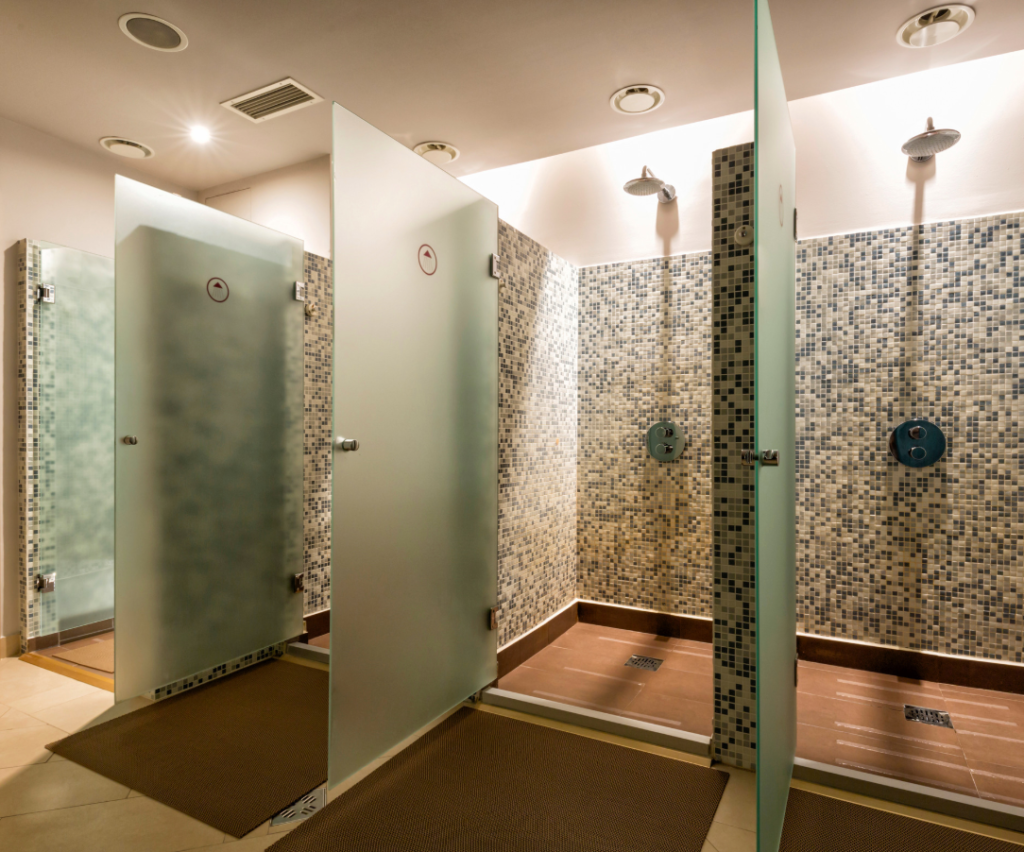 Types of Glass Suitable for Shower Doors
Once you're sorted with the framing and style of door, the next feature to consider is the type of glass you're after. Glass types can really affect the aesthetics of the room and how it is maintained in terms of cleaning with some surfaces being trickier to please than others. Ones that are designed to have a crystal, clear glass look, are not as forgiving with active families as is their textured counterpart.
There are five main styles of glass to choose from;
Clear Glass – as the name suggests it is designed to see-through the glass for some opaque elegance. Will require greater upkeep but looks awesome when maintained.
Textured or Frosted Glass – Frosted glass has a very distinct texture. It's designed with greater privacy and less maintenance as it blurs the inside of the shower. Frosted glass is available in different colours and series of designs and patterns.
Rain Glass – this type is a combination of the other two as it is only textured on one side, leaving the other smooth. This unique decorative look gives the appearance of patterns like 'crystal rain' hence its name. It still gives privacy and obscures fingerprints and watermarks, which is a plus.
Tinted glass – tinted glass comes in a variety of tones such as bronze, grey or even black. Although it offers privacy, in can obstruct the light but earthy hints and tones can complement your bathroom palette.
Hammered glass – offers textures and presents indentations on one side. These indentations are meant to resemble hammered metal. The effect allows lighting to create all sorts of interesting visual effects.
Glass Shower Doors Near Me
If you're wondering where you can purchase your new, glass, shower door of your dreams, we've got you covered. We specialise in Affordable, Bathroom Remodels and can supply, fit and install your new, glass, shower screen.
Our team here will be only too happy to assist you with your glass door needs and provide you with a no-obligation free quote on all costs including the door and installation.
Click here to get in touch with us today!